About Lankanhost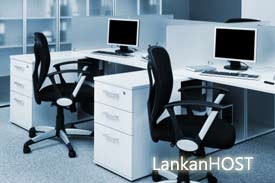 LankanHost, established in 2006.  LankanHost provides low cost high quality web hosting solutions and domain registration to sri lankan customers .These prices and packages very suitable for any budget in sri lanka. 
Web Hosting Plans and Services 
LankanHost offers a wide selection of low cost web hosting plans for every budget, Our web hosting plans starting as low as Rs:50 per month, Domain registration prices are starting from Rs: 900 Per Year.



High speed web servers for our clients provide full performance, guaranteeing money well spent for services purchased. All of LankanHost servers are run at less than 20% CPU utilization to guarantee the CPU's not being maxed out and causing any slowness. Our servers run on an Intel Dual Xeon servers with 16GB-48GB ram.

We have the technical and customer care experience to provide you with the best web hosting service available. We are strongly committed to bringing a personal level of customer service to each of our clients. Our technical staff is available 24 hours a day, 7 days a week, to handle your web hosting support needs. We provide you with professional, reliable service and support which allows you to focus on the dynamic needs of your business.
At LankanHost, our staff has years of combined experience in Linux/Network/ Web Server administration, Commercial Internet and the World Wide Web. Every member of our staff is capable of operating all of our server equipment, from simple server administration to complex customer configurations. We put this experience to work for you.
LankanHost Web Hosting provides your business with the necessities to make it a success on the internet. We guarantee each customer will receive the most state-of -the-art technology available, reliability that you can trust, and a heavy accent on technical support available via phone, fax, and trouble ticketing. We want to be your full service application service provider.
LankanHost Networks provides robust, reliable, and exclusively low cost web hosting solutions for thousands of clients in Sri Lanka. We have been profitable since day 1 and are one of the most experience and rapidly growing hosting companies you will find.
Quality Service, with Unmatched Support
LankanHost strives to provide its customers with the most comprehensive, feature packed solutions at the best possible prices, and with no hidden costs. Often, hosting companies charge extra for feature that you may or may not need. With LankanHost, we bundle the features in all of our hosting plans for free.
24 Hours Phone & Online Support
LankanHost has built and maintained a reputation on providing award winning support to our customers. A web hosting provider is only as good as its service and support. That's why LankanHost has onsite staff 24 hours a day 7 days a week to assist you if problems arise.
LankanHost's servers are housed in one of the world's finest datacenter Liquid Web. Our datacenters are capable of meeting your speed, security, and reliability demands of your website!
We use entrerprice class SATA hard disks and SSD drives, rack mounted servers. Our Business calss servers are configured with SSD raid 10 disk with 1GBPS network connections.
We use CloudLinux operating system with CageFS file system. This configuration provide added security layer for sahred web hosting server and behave like a light weight virtual private server.
We also take daily local backup and weekly remote backups. Our servers are secured with Mod_Security apllication firewall, CSF filewall, Malware/Virus scanner, Latest version of cPanel control panel.
Free Remote Backups & Daily local backup.
We take offsite /remote backup of your account every week. We also backup your account to another hard drive daily. Every night we backup your account to another hard disk for maximum data safety.
Serving hundreds of satisfied clients locally and internationally, LankanHost is known as a leading and reputable Web hosting provider in Sri Lanka. Our affordable prices and outstanding service level help to make us an ideal provider to meet your hosting needs-and we guarantee it! Try us today and we will even help you move your website from any previous web host at no additional cost.
LankanHost Network & Datacenters
Our DC maintain a carrier class network designed and built for the lowest latency, highest reliability, and maximum scalability.


LankanHost Datacenter Networks has up times in excess of 99.9%. We have triple redundant direct fiber connectivity to 3 Tier 1 back-bone providers. We have standby servers, hot swap drives, and a team of dedicated personnel monitoring and optimizing our servers so your website always achieves top performance.
The 130,000 square foot Data Center facility contains everything needed to ensure your mission-critical Internet operation is functioning at the highest performance levels. A full list of features/services in usage in the Data Center is found below
Security
Restricted access to the Data Center is monitored by qualified personnel 24 hours a day, every day. Visitors and clientele are only allowed on-site if escorted by Data Center staff. The entire Data Center is monitored, ensuring prompt response and thorough coverage to fire or security alarms. We supply all our Data Center customers with advanced firewall, encryption, intrusion detection and other security measures.

DC-3
Size: 90,000 sq ft
Address: 2703 Ena Dr. Lansing, MI 48917
Capacity: 25,000 Servers
SSAE-16 Compliant
Providers: Level3 Verizon, Cogent, Comcast
Cooling
Multiple Liebert 20, 22, 30 and 45 Ton upflow and downflow AC Units
Stand alone HVAC systems that don't allow for large scale failure
Designed For Addition of Air-Side Economization
Power System
Expandable 13,500 kVA Utility Power Feeds
Multiple ASCO Closed Transition Bypass Isolation Transfer Switches
Multiple N+1 Generac Diesel Generators
Multiple N+1 Powerware 9395 550 kVA UPS systems
Liebert & Eaton Power Distribution Units
Multiple Service Entrance Feeds