Unmanaged JSP Hosting & Glassfish or Tomcat server - Java Root Server.

Compare our reliable, JSP Tomcat and Glassfish hosting plans in Sri Lanka. All plans come with tons of disk space and bandwidth, email accounts, our easy-to-use SiteBuilder website creation tool, Instant Account Activation and much more. The most affordable web hosting service with the richest feature set available at the lowest price.
virtualizor Control Panel

Linux Virtual Private Servers are powered by the SolusVM VPS management software platform.
Why do I want a Java vps?
A virtual machine (aka. VM, VPS, VDS) provides all the benefits of having your very own server with none of the drawbacks. We take a large server and segment it into many virtual servers.
Advantages of a Java VPS.
Full root user access to your server.
We manage the main server. You will never need to worry about fixing network problems or faulty hardware. We monitor the network and host servers for uptime and performance 24/7.
30 day money back guarantee.
Rebooting your server takes seconds since it avoids the normal startup of a physical server. Booting the server into single user mode is easily available to help diagnose configuration problems.
Reinstall your server whenever you like with whatever you like. No longer do you need to wait hours or days AND pay a fee to have your server reinstalled. Just select your desired operating system from a list and a few minutes later you are freshly setup and running.




Install and configure custom software. Install Java web server and run JSP pages which is not possible with normal shared hosting servers.
Package
JSP VPS A
JSP VPS B
JSP VPS C
JSP VPS D
VPS Software
Virtualizor
Virtualizor
Virtualizor
Virtualizor
CPU
Equally Shared
Equally Shared
Equally Shared
Equally Shared
RAM

512MB

1024MB


1024MB

2048MB


2048MB

4096MB

8192MB
Disk Space
20GB
(RAID 10 Backed)
30GB
(RAID 10 Backed)
40GB
(RAID 10 Backed)
50GB
(RAID 10 Backed)
Bandwidth

500GB


1000GB/ Month

1000GB


1250GB/ Month

1000GB


1500GB/ Month

1000GB


2000GB/ Month
IP Addresses
1
1
2
2
Management
Unmanaged
Unmanaged
Unmanaged
Unmanaged
System
KVM
KVM
KVM
KVM
Backups
Yes
Yes
Yes
Yes
Setup
Free
Free
Free
Free
Rs:2000

/mo



Order Now
Rs:4000

/mo



Order Now
Rs:8000

/mo



Order Now
Rs:16000/mo

Order Now
Order Form
Reliable Web Hosting
VPS Hosting ( Root Server )



JSP Hostng/Tomcat Hosting
F.A.Q.
Can youI install Tomcat server for me?


Yes. We can install tomcat server and Apache for you.
Does this jsp hosting comming with a control panel?


We can install webuzo free edition without any additional cost.
Can you install Oracle for me?


Yes. We can install Oracle Express Edition without extra chages.
Which version of Java and Tomcat version do you have?


We can install Tomcat 7 and JDK 1.7
NOTE: We don't provide coding help or aplication trobleshooting for your software. We only provide help for newtwork and harware issues.

Operating Systems:
Fedora Linux Free


32bit and 64bit versions available

CentOS Linux Free


32bit and 64bit versions available

Ubuntu Linux Free


32bit and 64bit versions available
Control Panels: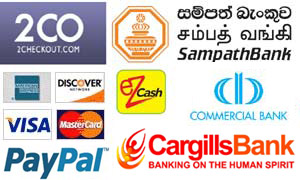 You can easyly deposit / transfer money to our account from the nearest Sampath Bank. Read more about LankanHost payment options.